Once a year, at The Colorado Health Foundation, we conduct Pulse, a poll that explores the most pressing issues facing Coloradans. Many people think of polls as tools to predict the outcome of elections. But for us, they're a way to listen to Coloradans.
Through Pulse, we hold up a mirror to the state, and we reflect back what we see in the data: the worries, the experiences and the priorities of our neighbors.
In 2022, our third year conducting Pulse, we talked to 2,985 Coloradans during the month of April. From those conversations, two issues were clearly keeping people up at night: the increasing cost of living and the lack of affordable housing.
Last year's poll showed that as we emerged from the pandemic, many Coloradans were feeling hopeful for a full economic recovery while still worrying about increasing costs. One year later we've learned that Coloradans throughout the state and from all walks of life are feeling overwhelmed by the rising cost of living, including housing, and many are making difficult financial tradeoffs to stay on top of economic pressures.
Coloradans overwhelmingly agree that increasing costs are a problem.
What is most striking about what we heard this year is how rapidly Coloradans' economic concerns and pain points increased since last year. Coloradans are feeling an economic squeeze across the board—from the cost of food and gas to rent and utilities. When given a list of problems to rank, respondents put "the rising cost of living" and "the cost of housing" top on the list (88% and 86% respectively), saying that the problems are extremely or very serious.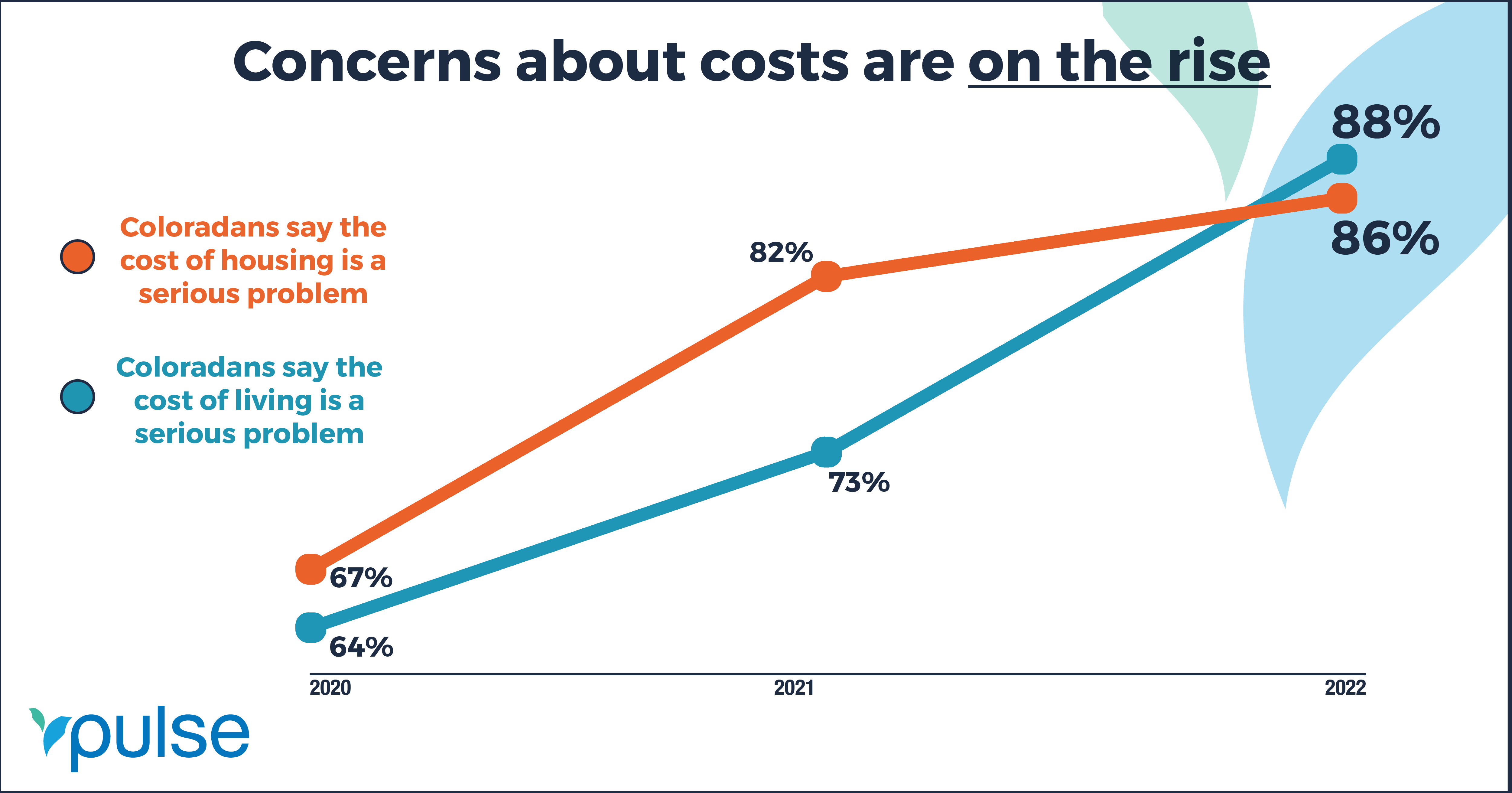 The cost of living is creating significant economic uncertainty.
While all Coloradans are concerned about rising costs, many respondents are already struggling to make ends meet. Between August 2021 and April 2022, there has been a marked increase in the number of Coloradans worried for their overall financial well-being and their ability to afford necessities such as food for their families. 
More than 40% are worse off financially than a year ago, a jump from 25% in 2021. 
Nearly 40% are worried that they might not always be able to afford enough food to feed themselves and their families, up from 23% in 2021. 
Nearly one in five have skipped meals in the last year because they couldn't afford food – almost doubling 2021's numbers. 
Some are more likely to report experiencing food insecurity: Hispanic/Latino Coloradans, Native Americans, people living on low incomes and people with disabilities.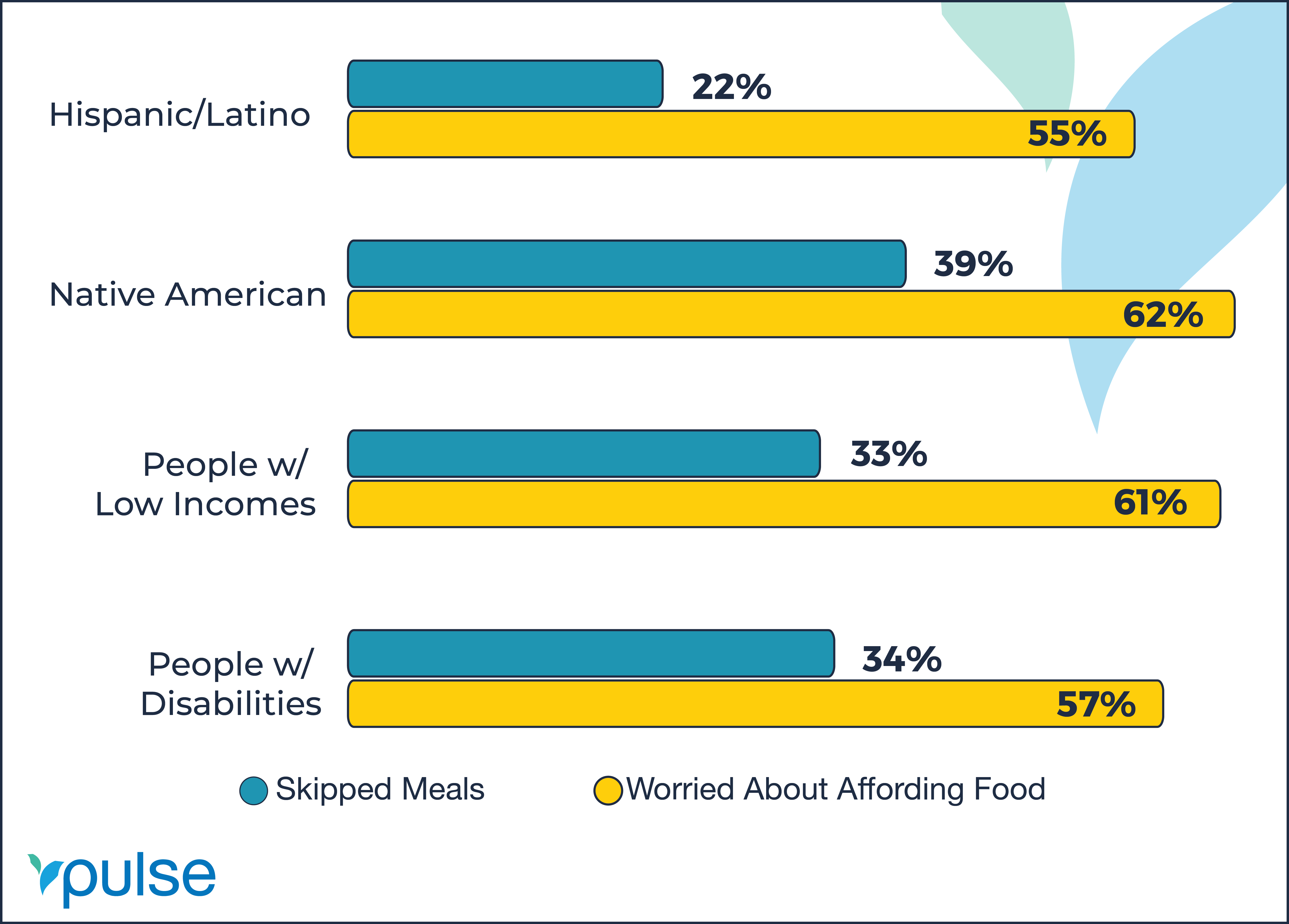 The rising cost of housing is forcing difficult tradeoffs for many.
The cost of housing is a top issue for Coloradans, causing significant worry among many that they'll lose their homes.
More than 8 in 10 consider the cost of housing to be a serious problem in the state, and 30% are worried they might lose their homes in the next year because they can't afford the monthly rent or mortgage. In 2021 this number was just over 21%.
Renters are more likely to worry about housing: 95% consider it a serious problem, and 52% are worried about losing their homes because they can't afford to pay.
Coloradans living in more urban and suburban regions along the Front Range are more likely to be worried about losing their homes compared to people living on the Eastern Plains or Western Slope.
For some, the cost of housing is already forcing tough compromises.
Over 30% of all have cut back on – or gone without – other needs like food or health care in order to afford housing.
Over 30% have worked multiple jobs or more than they wanted to to be able to pay the rent or mortgage, including 43% of people living on low incomes and 48% of renters.
About one-third of renters have avoided asking their landlords to address problems for fear of rent increases or eviction.
People living on low incomes are far more likely to have made difficult tradeoffs: 50% have cut back on other needs, 43% have worked more than they wanted, and 40% of renters have avoided asking their landlords to address problems.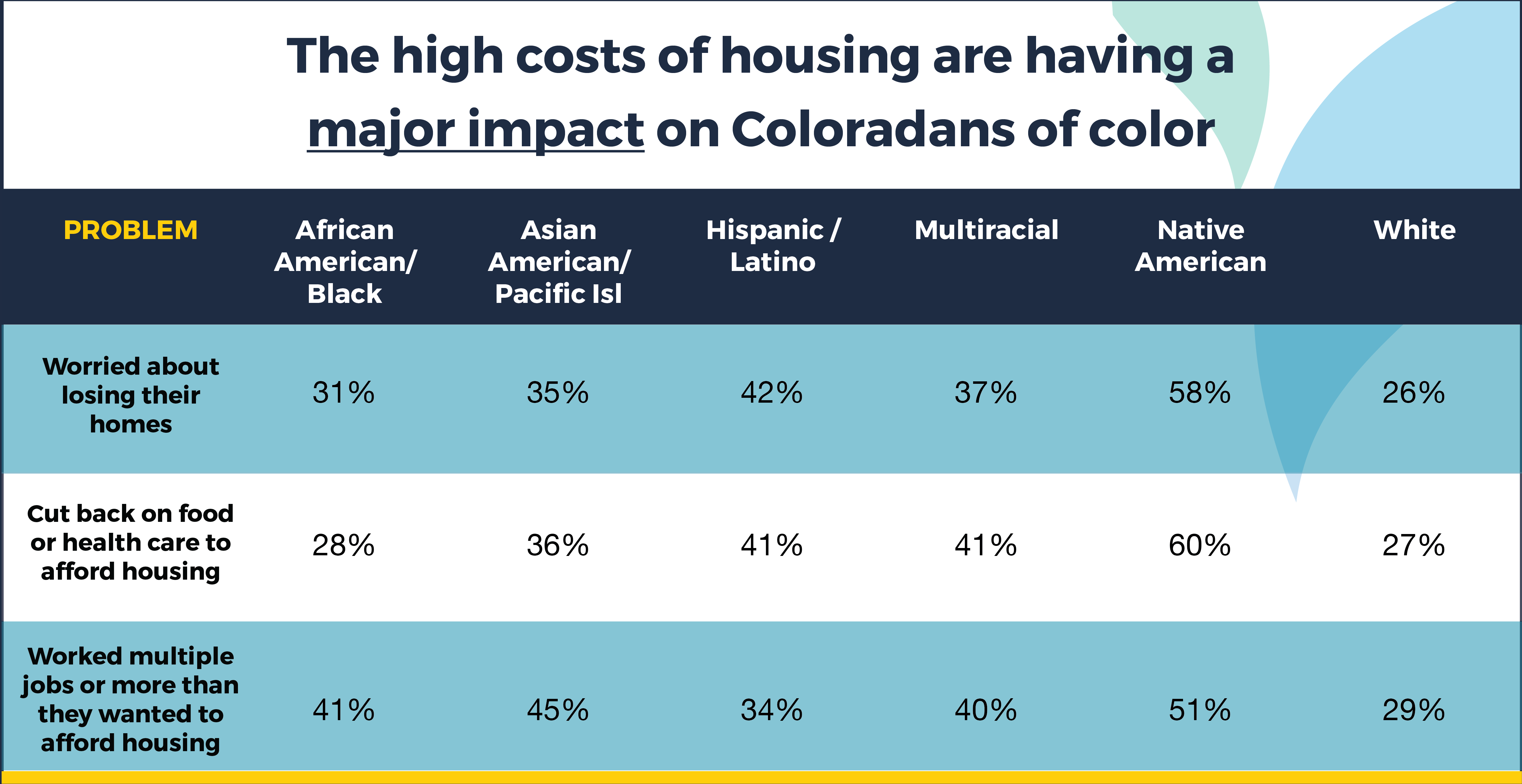 Coloradans see policy solutions that start to address the cost of living as effective.
Coloradans across the board expressed a desire for action to address the rising cost of living, and they see a role for taxpayers, employers and the government. A majority of respondents believe the following policies would be effective solutions in helping Coloradans make ends meet:
Changing government regulations to reduce the cost of household expenses like food, health care and utilities.
Raising taxes on people making over $500,000/year to cover government services like housing, health care and education.
Requiring employers to increase pay and benefits for low- and middle-income workers.
Making government investments to stimulate the economy and create better-paying jobs in communities that are struggling.
Likely voters make up the vast majority of respondents, and they're considering their financial security when they vote. When asked about the issues that will be most important to their considerations about this November's candidates, respondents cited the economy and the cost of living. 
Coloradans think landlords, developers and the government all have roles to play in lowering housing costs.
The number of Coloradans struggling to afford housing is growing, and likely voters cite affordable housing – or the lack of it – among the top three issues on their minds as they look ahead to the November 2022 election. Strong majorities – across party – believe that the adopting the following policies would be effective in making housing more affordable:
Ensuring landlords cannot raise rents on current tenants too quickly.
Requiring developers to build housing for people with lower income levels.
Reducing government regulations to speed up the building of new housing.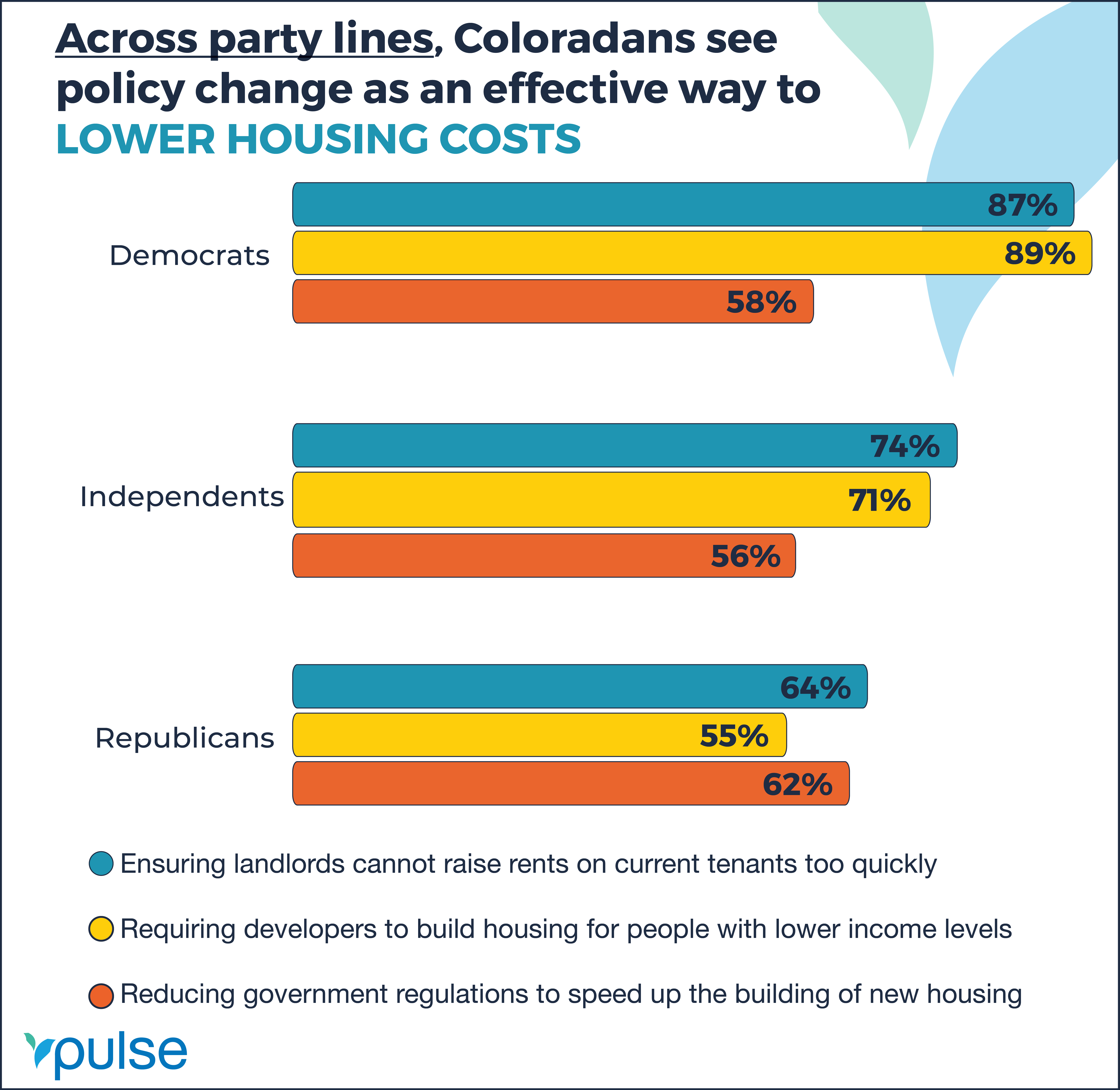 Go Deeper
All the questions we asked on cost of living and housing are now available. Results for all respondents are here, and crosstabs that allow you to explore different subgroups are here. 
Additional findings regarding health and well-being will be released and posted to our blog in early June, and our full analysis of all survey data will be available in late June. Also in late June, we'll launch an interactive data dashboard that will allow you to dig into the questions you're most interested in.